I was on Pinterest and came across a great beaming yellow photo that said "25 Gratitude Journal Prompts". After taking a little step back in August from super-busy mode in order to rejuvenate my Soul, I'd been thinking a lot about ways that I can keep my energy high moving forward, and avoid overwhelm.  This picture with its corresponding inquiries made me realize that one of the best ways to do this is to focus on all the good things happening right now.
So I decided to take just the first question from this pic and tweak it a little to read: What made me smile this month? If you want to check out all the other amazing gratitude prompts for yourself, head on over to Good Things Realized!
WHAT MADE ME SMILE THIS MONTH?
♡ My sisters: One got a job doing what she loves and the other continues to do what she loves. And I love that we're all three now pursuing our passions.
♡ My friends: I've got a few key people in my life who I have silly, deep, and/or just plain zany conversations with about life, love, and what the heck is happening in the world. Thank you for being true and loyal friends.
♡ My online friends: These are all the spiritual, compassionate, and system-busting buddies from social media who help keep me grounded and sane in this sometimes mad, mad world. You're all awesome.
♡ Writing: My book has been on the backburner for a while, but in August I managed to squeeze in a few hours working on the Meditation and Manifestation chapters. It was so nice to get "reacquainted" with it again:-)
♡ My cats: They are the very definition of unconditional love and authentic living. When they're not driving me crazy being ridiculously full of themselves that is!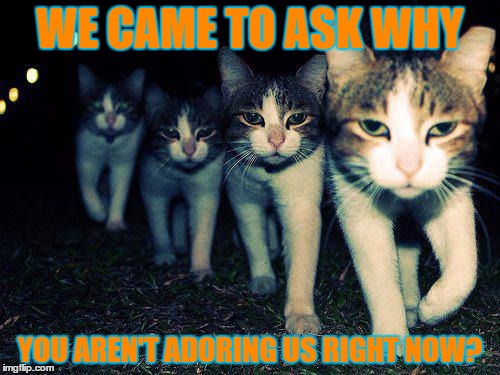 ♡ Blogging: Who knew that something I started just to get my writing out there would turn into such a passion for me? But it has, and I'm so thankful that I discovered it. From weekly rants about trying to be a better person, to promoting other people's passions, to finding like-minded business partners – it all brings me so much joy, and I'm grateful for every second of it.
♡ My discipline: I love that over the years I've improved in this area, and that because of my efforts, middle age is a time of health and action towards my dreams.
♡ My Creator: For continually sending me intuitive nudges, endless strength, and leading me down a path of self-empowerment to fulfill my Soul's goals.
♡ Nature: For being my church and my biggest creative muse.
♡ You: Thank you for stumbling towards enlightenment with Trina and me all these months! Our hearts are full knowing that someone reads our ramblings, and just maybe gets some benefit out of the experiences we share.
All right, enough mushy stuff from me – what has you smiling this month? I'd truly APPRECIATE it if you'd share your joys below. ♡
Namaste,
Kirstie