Recently, an invite popped into my Facebook notifications and, unlike 90% of those that come through, it wasn't a request to like a page or attend a webinar or check out a new blog post. This one was surprising and refreshing all at the same time. Dubbed "30 Days of Deliberate Difference Making", the private event was an extension of those Random Acts of Kindness we often hear about – it was a challenge to perform one simple altruistic act each day for a month.
The campaign ends today, and it got me thinking – what if I continued the trend and created a Kindness Campaign Chain? So today, I'm doing my part to see this happen. For 30 days straight, I'll strive to do one kind thing for someone else, and I'll write about these experiences in this month's articles. I'd would love anyone who wants to participate to join me.
Although our acts of kindness can manifest in a lot of different ways, here are some ideas for people who have busy schedules:
Say "thank you" to someone in the online world who has helped you with your goals by telling them what they've meant to you.
Hold the door open with a smile for someone.
Send a *gasp* hand-written letter to a friend or family member outlining a memory you made together that still makes you smile.
Fill out that online survey with all '10's' for the customer service agent who helped you.
Thank the person vacuuming your office or gym and tell them that it looks nice.
When the person in front of you in line has a kid that's screaming bloody murder, smile at both of them and offer to buy them one of the (non-sugar!) packs of gum/mints lining the aisle.
Compliment someone on their shoes/accessories/clothes
Find the name(s) of the people heading up that charity or social cause you love and write them an email of appreciation for all they do.
Hug it out with someone who is stressed. Just a 20-second hug has been scientifically proven to reduce stress by lowering cortisol levels.
Leave someone a note on their car windshield telling them they're awesome and much needed in this world.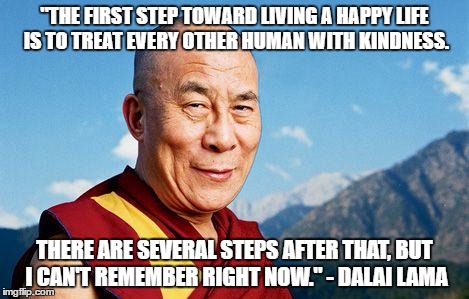 Next Monday, I'll give an update of how I'm faring, including people's reactions and any internal shifts I notice in myself after making a conscious effort to perform one small, heartfelt act for someone each day.
I'd love for everyone to jump in with comments on how you made someone's day! #KindnessCampaign You can view The Kindness Campaign: Week One here.